When we last wrote, we were enjoying Day of the Dead around Lake Patzcuaro. Did we tell you about corundas? They are tasty little three-cornered tamales (a Mexican version of polenta). They can be eaten as a side dish with sour cream or just plain. Corundas are popular around the Lake Patzcuaro, but apparently not made in other states of Mexico. We miss them now that we've ridden off into the sunset. To be more specific, we headed west to the state of Jalisco, home of tequila.
We have it from a reliable source that those alien ships that passed over Earth during the pandemic were sent to brainwash people into wanting to buy an RV. Really. I read it on the Internet. Nearly everyone and his mother have gone out and purchased an RV, whether they knew anything about it or not, and even if they had never been camping or road-tripping in their life. When we returned to Mexico last year, even our favorite, completely empty RV park was filled with first-timers and snowbirds, so much so that they had no room for us - an old customer. Oh well.
CHIMULCO
We moved on to Chimulco, a hot springs water park with RV facilities. The facilities, how shall I put this, were somewhat old and tired. But then again, so are we at this age, so who are we to judge? (That's a rhetorical question - no comment necessary.)
We enjoyed the lukewarm pool, with our frozen margaritas in hand, in spite of the sign that said no food or drinks in the pool area. Well, the sign was in Spanish. We didn't know what it said, right? (That's a rhetorical question, too!)
The weekly market in the village (Villa Corona) was conveniently located within walking distance. Many of those markets have someone deep-frying cut-up tortillas to make totopos, as they're called here, which are the original, fresh corn chip before Frito-Lay started adding chemicals. This market was no different. They're perfect for happy hour with our homemade guacamole and margaritas. But not in the pool area, of course!
LA

PEÑITA

DE

JALTEMBA

(the village)

But this post was supposed to be about La Peñita RV Park. The digression was for this: At Chimulco, we met Alan from Quebec, who told us about La Peñita. He said we absolutely must go there, and also that it's impossible to get in because most residents return for the season year after year. They're always fully booked.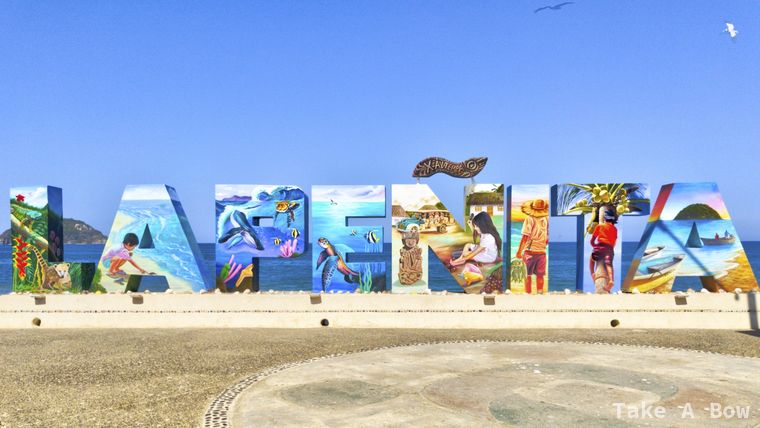 Well, going where we're not welcome has never stopped us before. So, over the hill, to grandma's RV park we go. Our little 23-foot van fits in those spaces that RV parks can't rent to fifth wheels and diesel pushers. Plus, Deena's charm always opens doors. Or, in this case, RV parks. Of course there was a space for us.
The park is built in terraces coming up from a bay and beach on Pacific Ocean, with nearly 150 spaces plus a fully equipped tent area. But the most notable feature of the park is the warm, community feeling. Most of the seasonal residents have been coming here for many, many years and since they're mostly Canadians, they're actually nice and friendly. It's a welcoming community.
The park, of course, has a pool, WiFi, bath houses, laundry facilities, and a restaurant. The local village brings services into the park: laundry service, a fruit and vegetable truck, a bakery truck, a manicurist, and on-site massage.
The place reminds us of a cruise ship, except the activities are actually resident-driven: poker, dominoes, and bingo in the clubhouse, volleyball in the pool, pickleball, organized morning walks on the beach, yoga or kinetics on the palapa, Taco Tuesday, hamburger and beer night, pizza night, movie night, and Friday night guitar jams. They also have the occasional special dinner dance, and profits from many of the activities go back to the village. Over the years, the residents here have given much assistance to the local Mexican community.
One could argue that this is not really our lifestyle, but any new living situation is our lifestyle! We just aren't quite ready for the snowbird lifestyle yet. At least while we can still move.
---